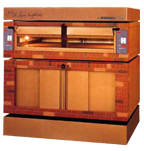 P/5 "Il signor bruschino"
Electric oven pizza modular. Room constructed entirely of refractory material. Microprocessor electronic board that allow separate adjustment of temperature in the sky and in the audience.
E 'including the function of saving. Oven unique and distinctive features movable wall that allows the use of all the cooking surface or a single party with energy savings of 50%. Heating system with stainless steel spiral resistors inserted directly into the refractory to ensure a high uniformity of cooking.
Possibility to have the front painted or stainless steel.
Model

External dimensions

Internal dimensions


Weight

Absorption

Trays

Ability peaks


Temperature

LxpxH cm

Kg

Kw

N°- 60x40

Ø 30 cm

°c - max

HOOD INSULATOR


Cap p/5

166x134x17

-

67

-

-

-

-

Cap p/5 inox

166x134x17

-

67

-

-

-

-

COOKING CHAMBER


Cam p/5

166x122x48

130x93x17

300

7+7

2+2

6+6

400

Cam p/5inox

166x122x48

130x93x17

300

7+7

2+2

6+6

400

PROVING CELL

Cel p/5

166x130x72

-

105

1,2

-

-

90

Cel p/5 inox

166x130x72

-

105

1,2

-

-

90

STAND

Cel p/5

166x122x72/90

-

40

-

-

-

-

Cel p/5 inox

166x122x72/90

-

40

-

-

-

-

A

ACCESSRY

Kit 4 casters (2 front witn brakes)


-

-

-

Extractor fan hood


-

-

-

*Custom Paint Oven


-

-

-