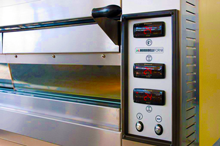 F/9 "TUTTOFARE"
Electric ovens for pizzeria and pastry shop and two roomed bedsit version with seven measures of the cooking chamber.
Hob refractory material (on-demand plan for pastry sheet). Cooking chamber made entirely of aluminized steel, stainless steel armored resistors placed in the sky and in the audience.
Digital commands to control units version "Touch Screen" with separate adjustment of the temperature of the air and the audience and digital display of the average temperature of the room.
Front 18/10 stainless steel AISI 304.

Sample: [ F/9M M= Bedsit - F/9B B= Two roomed ].

Model

External dimensions

Internal dimensions


Weight

Absorption

Trays

Ability peaks


Temperature

LxpxH cm

Kg

Kw

N°- 60x40

Ø 35 cm

°c - max

COOKING CHAMBER


F/9M

111x158x43

82x125x16

160

9,5

4

8

400

F/9B

111x158x80

n.2 - 82x125x16

245

9,5+9,5

4+4

8+8

400

PROVING CELL

Cell F/9

111x158x72/90

-

95

1,2

-

-

90

Cell F/9 inox

111x158x72/90

-

95

1,2

-

-

90

STAND

Cav F/9

111x158x72/90

-

40

-

-

-

-

Cav F/9 inox

111x158x72/90

-

40

-

-

-

-

A

ACCESSORY

Kit 4 casters (2 front with brakes)


-

-

-

Extractor fan hood


-

-

-

Port kit pans for easel


-

-

-