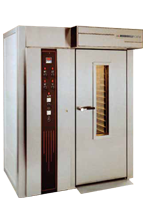 "IDEAL ROTOR DOUBLE MATIK"
Rotary kiln to the Convention for pastry and bakery. Vertical rotating kiln cart, designed with advanced technology for baking bread and pastry production and biscuits.
Fuel: natural gas, LPG, diesel, electric. The excellent cooking is guaranteed by the perfect movement of warm air.
Burner and fan installed inside the cell service.
Control panel with electronic instruments of high quality, easy to use. A request in the steam room.
Model

External dimensions


Weight

Absorportion

Absorption

Trays

Temperature

xpxH cm

Kg

K/cal.

Kw

N°- 60x40

°c - max

FORNO IDEAL ROTOR DOUBLE MATIK


s/G

165x116x200

750

36.000

-

18

400

s/e

165x116x200

750

-

22

18

400

LEAVINING CHAMBER


S/G-s/e

85x110x200

150

-

3

36

90

A

ACCESSORIES


Steamer oven for S/G - S/E


-

-

Steamer oven for prover


-

-

Take him an extra basket for S/G - S/E


-

-

Burner GAS (GPL - Metano)


-

-

Oil Burner


-

-