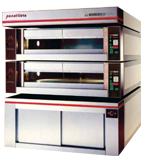 "MC PANETTIERE"
Modular electric oven to bake for any type of bread and the production of cakes and biscuits. Front entirely in brushed stainless steel.
Overhead doors, stainless steel and jointed. Controlled by electronic card with a microprocessor which allows separate adjustment of temperature in the sky and in the audience and the ignition control and the application of steam.
E 'provided the function of economizer (Economic Energi System) that avoids the temporary operation of the resistance and reduces fuel consumption by around 50% profits even in times of little work or time.
Model

External dimensions


Internal dimensions

Weight


Absorption

Trays

Temperature

LxpxH cm

Kg

Kw

N°- 60x40

°c - max

HOOD

Cap MC/2

176x228x22

-

120

-

-

-

Cap MC/3

237x188x22

-

125

-

-

-

Cap MC/4

237x246x22

-

140

-

-

-

Cap MC/5

237x281x22

-

151

-

-

-

BAKING CHAMBER


Cam MC/2

176x210x48

123x167x18

500

12

8

400

Cam MC/3

237x170x48

185x127x18

550

14

9

400

Cam MC/4

237x228x48

185x185x18

610

15,5

12

400

Cam MC/5

237x263x48

185x220x18

630

17

15

400

LEAVINING CHAMBER


Cel MC/2

176x231x75

-

180

2,5

-

90

Cel MC/3

237x191x75

-

190

2,5

-

90

Cel MC/4

237x249x75

-

195

2,5

-

90

Cel MC/5

237x284x75

-

205

2,5

-

90

STAND

Cav MC/2

176x231x75

-

43

-

-

-

Cav MC/3

237x191x75

-

49

-

-

-

Cav MC/4

237x249x75

-

55

-

-

-

Cav MC/5

237x284x75

-

60

-

-

-

ACCESSORIES

Chassis firing full manual canvas Mod. MC Panettiere

Extractor fan food